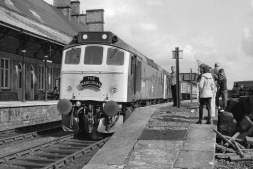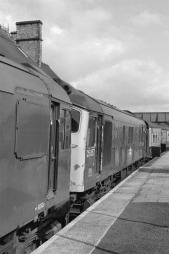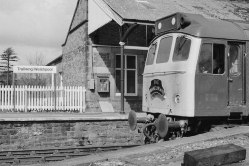 Saturday 2nd April sees 25083 and 25057 (rear) at the head of the Manchester to Aberystwyth adex. This particular train ran each year with 25s before the start of the Summer Saturday trains, although to see it at the start of April was more than a little unusual.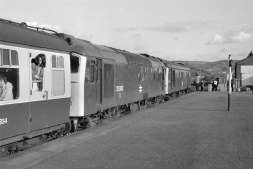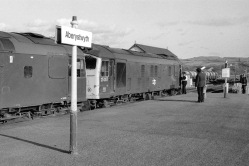 Whilst it was never going to be the warmest of days the weather did not let anybody down and we all had an enjoyable day. Here 25057 and 25083 (rear) prepare to return to Manchester.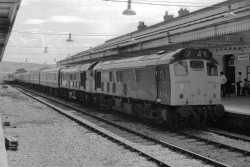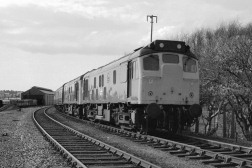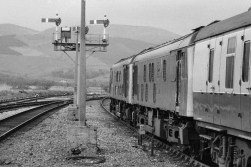 The second excursion train of the year featured (L) 25243 and 25237 (rear) on a LNER Society Charter special from London on Saturday 30th April. (C) Having run round the train 25237 is now at the front and the stock was stabled outside the station for the duration of the stay. (R) The train waits at Dovey Junction for the section through to Machynlleth to clear.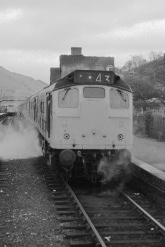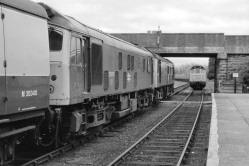 The following Monday (2nd May) was the Bank Holiday and two excursion trains headed to Aberystwyth. One of the trains was pressed into service to deputise for a lack of DMUs and (L) 25243 and 25230 (rear) head the 1642 Machynlleth - Aberystwyth departure.
(R) By the end of May the Summer Saturday trains had started and here, on the 28th May, 25242 (front) and 25078 wait the arrival of 25202 and 25212, heading the 1010 Aberystwyth - Euston at Welshpool. There were fifty Bashers here for the latter pair as 25212 was considered to be quite a rare loco at this time.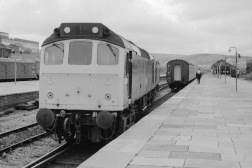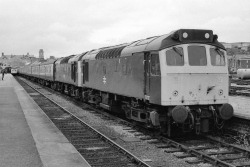 That day, 28th May, the third pair to work were (L) 25133 and 25124 (rear) with the 1010 Euston - Aberystwyth. On arrival at Aberystwyth the locos are released, run round the train and then shunt the empty stock into an adjacent platform where (R) 25124 now heads the train. Before departure the empty stock will be shunted back into the platform occupied by the DMU in this photograph.