On Saturday April 11th 1981 25241 stands at the buffers in Dundee station having brought in 2L41 12.44 Glasgow Queen Street - Dundee service. At the far end an 08 shunter drops onto the stock and releases the 25 so that it can work the return service. This was to be the 15.39 Dundee - Glasgow and is believed to be the last passenger train worked by this loco.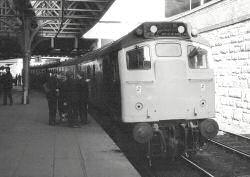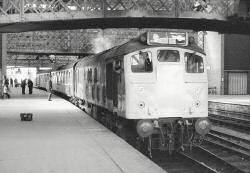 On Friday 17th April 1981 it is the turn of 25234 to work 1C89 17.15 Dundee - Perth seen here at Dundee prior to departure (right) and subsequently at Perth (left) on arrival.
25234 takes the ECS of the 17.15 Dundee - Perth out of the station and reverses it back into the coaching sidings just outside the station area.