Class 25 locomotive 25214 powers the 07.35 Nottingham - Llandudno service into Prestatyn station on the 2nd August 1980. Also that day 25105 could be seen at Rhyl coupled to a Guards Van.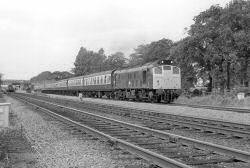 25060 heads away from Prestatyn station with the 09.42 Llandudno - Manchester service on the 16th August 1980.
On the 27th August 1980 25056 worked the 13.40 Manchester - Llandudno summer additional train seen at Chester on the outward leg and subsequently leaving Llandudno as the 16.42 service to Crewe. It is likely it would have gone on to work the 20.30 Crewe - Bangor as this was the third leg of the diagram.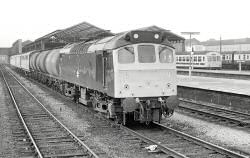 25158 trundles through Chester station with a small freight train on the 27th August 1980.