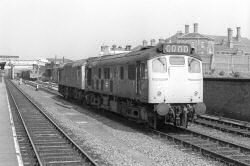 Class 25 locomotives 25047 and 25215 wait by Shrewsbury station at 11:00hrs before moving off to the stabling point.
25160 passes Sutton Bridge Junction around midday, returning ninety minutes later.
The 10.07 Aberystwyth - Euston headed by 25273 and 25188 comes off the Cambrian Line at Sutton Bridge Junction at 12:10hrs.
25219 heads the 12:22 Crewe - Cardiff service from Shrewsbury towards Sutton Bridge Junction at 13:00hrs. Ten minutes later 25156 and 25141 accelerate under the bridge with the 10.40 Euston - Aberystwyth.