On Friday 11th June 1976; (L) 25052 stands in Par station with a freight train whilst in the distance an unidentified class 25 can be seen heading down the Newquay branch. (C) 25080 and 25225 come off the Newquay branch with a freight train whilst (R) 25170 sets off from Par with a rake of china clay wagons destined for one of the quarries on the Newquay line.
Saturday 12th June sees (L) 25224 heading up the Newquay line
Monday 14th June (C and R) 25080 runs through Par station with a china clay train from the quarries off west of St.Austell.
(L) The following day it is the turn of 25082 to work the clays into Par
On the 17th June (C) 25170 arrives with a short engineers train and in the sunshine of the following morning (R) 25052 prepares to move off towards Plymouth with a freight train.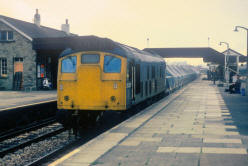 Much later in the year, on 28th September, 25223 arrives at Par with a china clay train.